Standard gauge, 56-lb rail
Headquarters: Moss Point
Mill Location: Bond, MS (Stone County, was part of Harrison County)
Mill Capacity: 150,000 ft/day in 1910
Years of Operation: 1910-1919
Miles Operated: 15 miles in 1917
Locomotives Owned: 4?
Also see: J. E. North Lumber Co.
Equipment:
4 locomotives in 1917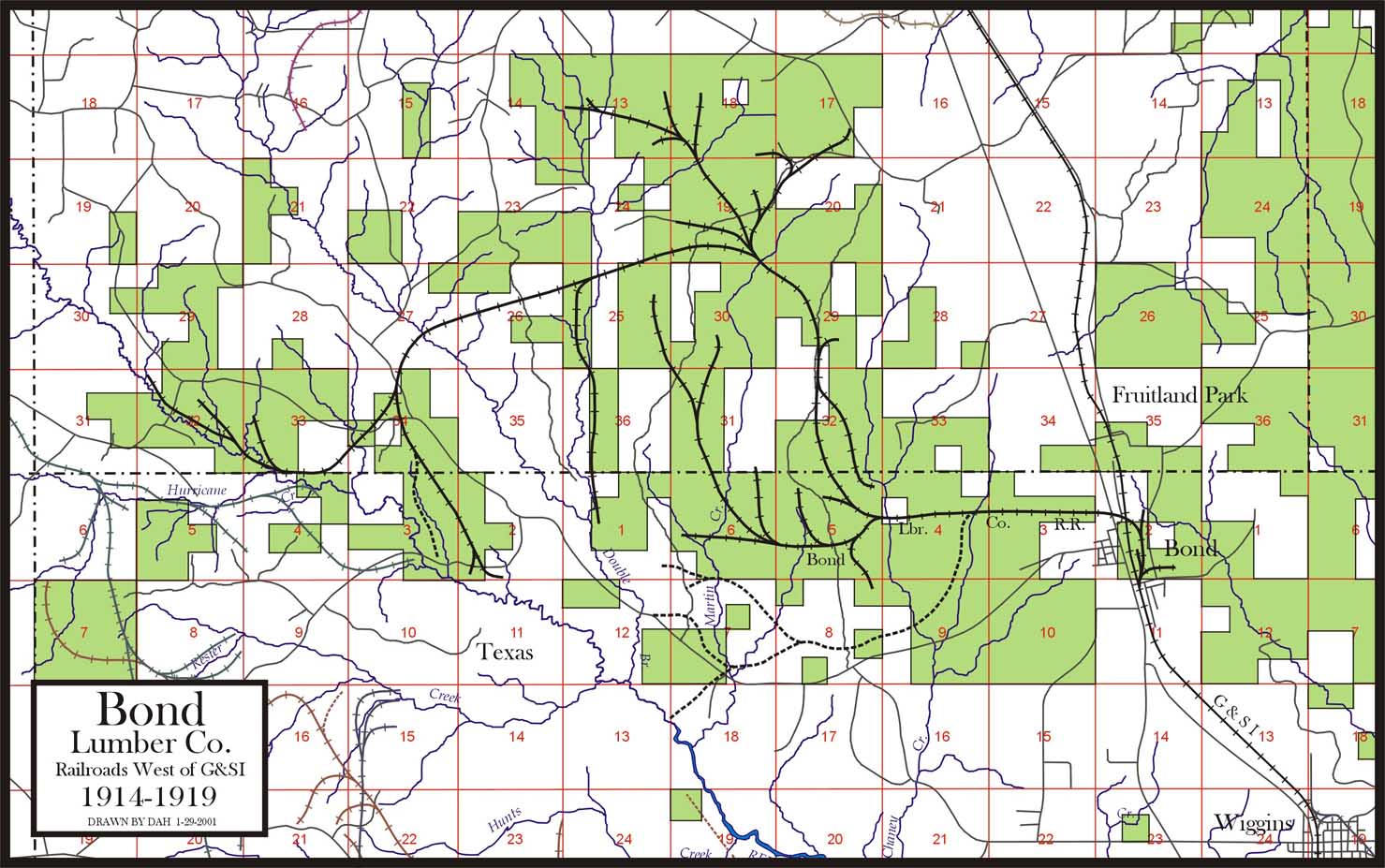 Click Map for Larger Version
History by Gil Hoffman:
The Bond Lumber Company was incorporated at Gulfport, Harrison County, in April 1910 by Z. D. Davis, C. A. Alexander and J. A. Alexander, all of Jackson, MS, with capital stock of $1,000,000. On June 27, 1910, the company purchased the plant and timber holdings of the J. E. North Lumber Company, at Bond, Harrison County, for $795,000. The mill had a cutting capacity of 150,000 feet per day and was equipped with two double cutting band saws and a gang. Only longleaf yellow pine was cut. The company did an extensive export business through Gulfport to South America, Africa and Europe. The general manager was Charles A. Gunstream. In 1910 the plant was leased to the L. N. Dantzler Lumber Company, and in 1915 was purchased by them.
On October 4, 1919, the mill ceased operation. On March 3, 1920, the plant was sold to the General Equipment Company, of New Orleans, Louisiana, for $100,000, except for one rod locomotive being overhauled at Gulfport, one dry kiln and the office building.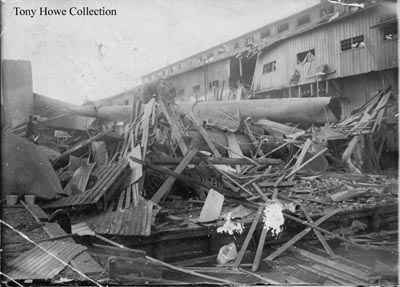 One of the mill boilers in the powerhouse blew up in March 1912.
What is believed to be Bond Lumber Co. No. 103 in 1914.
ROSTER by Gil Hoffman and Tony Howe:

? Class C Climax 752 -1907 14x16 130000

Purchased from Southern Iron & Equipment Co. #899, Atlanta, GA, on 1-31-1913. Cost $4,000.

Built as Great Southern Lumber Co. #300, Bogalusa, LA; to Southern Iron & Equipment Co. #899.

Later to Leatherwood Lumber Co., Leatherwood, KY.

102 No Data

Purchased secondhand.

Sold

to Ten Mile Lumber Co., Ten Mile, MS, on 7-21-1918.

103 2-6-0

Purchased secondhand.

Sold

to Native Lumber Co., Howison, MS.

At least 1 more locomotive was owned by the company