Standard Gauge 30 and 60-lb rail
Headquarters: Orvisburg, MS (Pearl River County)
Years of Operation: 1888-1917
Mill Capacity: 60,000 ft/day in 1917
Miles Operated: 22 in 1910
Locomotives Owned: 3
Equipment:
3 locomotives, 30 cars, and 1 Barnhart loader in 1907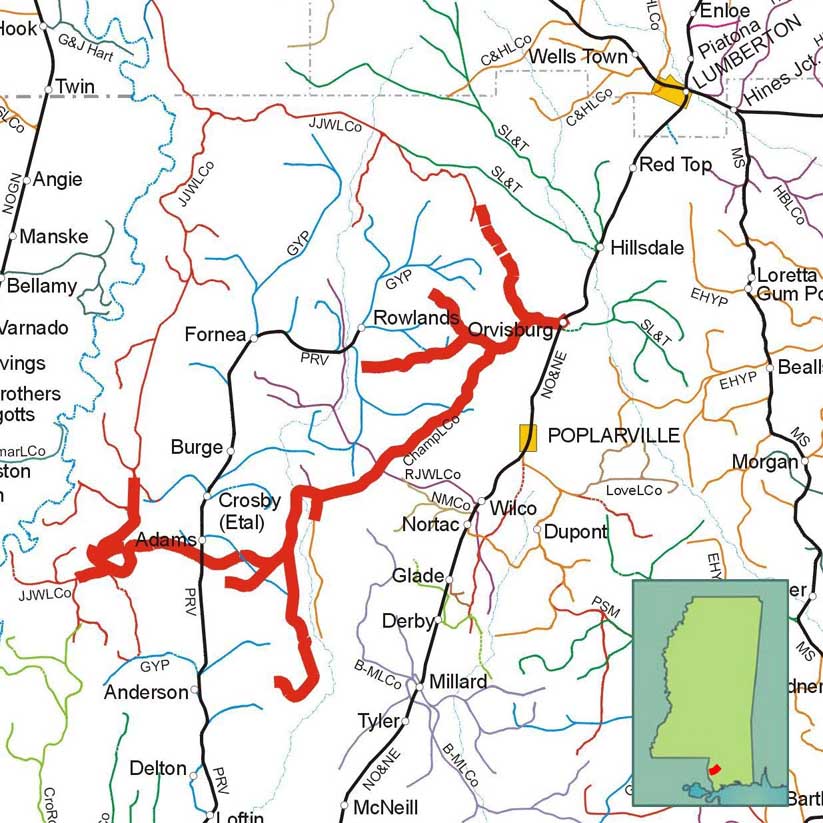 Click Map for Larger Version
History by Gil Hoffman:

On October 23, 1888 Henry S. Sweet and his wife Esther, sold the Champion Lumber Company 3,092 acres of timber land in the northern part of Pearl River County. The Champion Lumber Company was incorporated in Michigan and was composed of H. S. Sweet, of Detroit, MI; E. E. Orvis and D. Kennedy, both of Portland, MI, and Theodore Gunn. Sweet was president; Gunn, vice president and Orvis, secretary and treasurer. The following year, 1889, the company bought the property of the Doud-McGuire Lumber Company, of Minnesota. Apparently this purchase included a sawmill in Poplarville. Deeds to the Doud-McGuire land were not acquired until September and October of 1890.

In 1890 the Champion Lumber Company built a new circular sawmill on the New Orleans & Northeastern Railroad, at Orvisburg, four miles north of Poplarville. The mill was built on land obtained from H. S. Sweet in 1888 and the mill town that grew up around it named after E. E. Orvis. This mill had a cutting capacity of 40,000 feet per day and specialized in car sills cut from longleaf yellow pine. The plant also included a planing mill, dry kilns and a large company store. Initially logging was done by ox teams, but in early 1892 four miles of standard gauge logging railroad were built. By early 1893 the company owned about 21,000 acres of timber land. The railroad was called the "Pearl River & Western Railroad" but it was never incorporated or operated as a common carrier.

On October 8, 1906 the holdings were sold to the Edward Hines interests, of Chicago, but the name "Champion Lumber Company" was retained. At the time of this sale George O. Begg was president and Flint P. Smith, secretary. On August 24, 1908 the sawmill was completely destroyed by fire, but was rebuilt.

In 1917 the mill was dismantled, and Edward Hines bought a more modern mill at Lumberton from the Hinton Brothers Lumber Company.

The mill site was sold to the Cecil Lumber Co., who built another mill at Orvisburg in 1917.
ROSTER by Gil Hoffman:
Road No.

Type

Builder

C.N.

Date

Cyls.

Dri. Dia.

Engine

Wt.

Previous Ownership

Disposition

382

20-2

Shay

Lima

382

12/1891

3-9x8

26

40000

New.

Lettered "Pearl River & Western."

Cecil Lumber Co. #1,Orvisburg, MS, in 1917.

Newell Construction Co. #1, Earl, AR

Opdenweyer-Alcus Cypress Co. #15, Sorrento, LA.

2

25-2

Heisler

Stearns

1900

50000

New.

Jordan River Lumber Co. #2, Kiln, MS, in 1917.

3

2-8-0

Altoona

1389

4/1889

20x24

50

114620

Pennsylvania R.R. #1318

A. V. Kaiser & Co.

H. S. Kerbaugh, Inc., Bellwood, PA

Birmingham Rail & Locomotive Co.

Champion Lumber Co. #3, on 3/24/1913.

Jordan River Lumber Co. #3, Kiln, MS, in 1917.

Edward Hines Yellow Pine Trustees #1, Barth, MS, in 1922.