36" gauge, wood rail
Headquarters:
Mill Location: Sheppard Switch (1 mile south of Mt Olive), MS (Covington County)
Mill Capacity: 0,000 ft/day
Years of Operation: 1902
Miles Operated: 2
Locomotives Owned: 1
Equipment: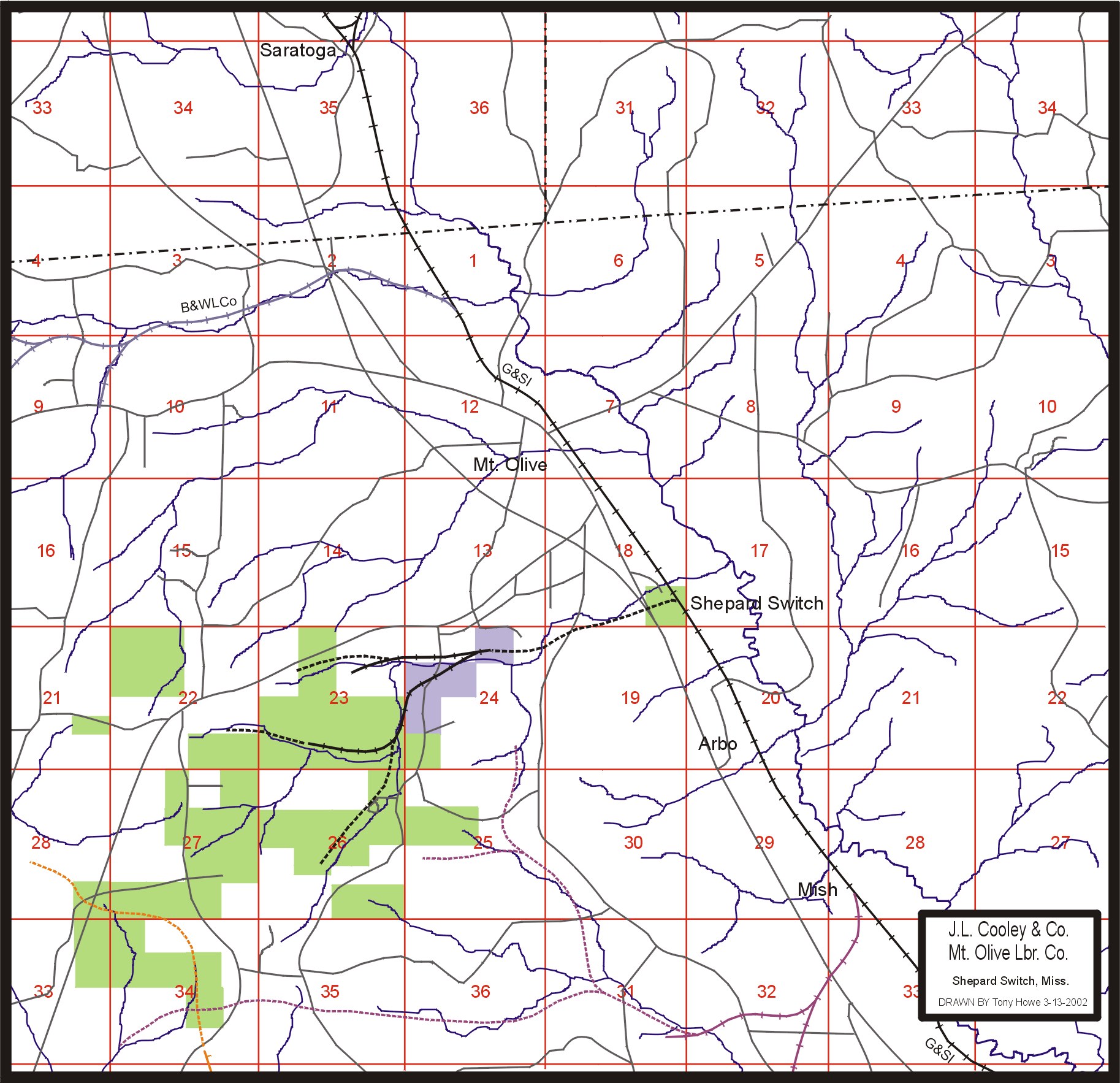 Click Map for Larger Version
History by Gil Hoffman:
J. L. Cooley & Company was a partnership composed of J. L. Cooley and T. B. Cooley. Their sawmill was built by the Bowie Lumber Company and sold to M. D. Sheppard on September 3, 1900.
On December 10, 1902 the Cooleys sold out to the Mt. Olive Lumber Company.
ROSTER by Gil Hoffman:

? 2T Shay Lima 174 5-1887 26 2-7x12 26000
Purchased from Birmingham Rail & Locomotive Co., Birmingham, AL, on 1-10-02.
Built as Powell Lumber Co. # , Pocahontas, TN; to Frank Eastman, Tampa, AL, in 1888; to Tampa Lumber Co., Tampa, AL, on 7-12-89; to Birmingham Rail & Locomotive Co.
Sold to Mt. Olive Lumber Co., Mt. Olive, MS, on 12-10-02; to S. A. Jones & Son, Columbia, MS, on 10-10-04; repossessed for non-payment; resold to Bowie Lumber Co., Bowie, MS, on 2-14-06.