Standard Gauge 35-lb rail
Headquarters and mill location: Rosine, MS (Forrest County)
Years of Operation: 1903-1911
Mill Capacity: 50,000 ft/day in 1910
Miles Operated: 14 in 1910
Locomotives Owned: 3
Equipment:
2 locomotives, 16 cars in 1910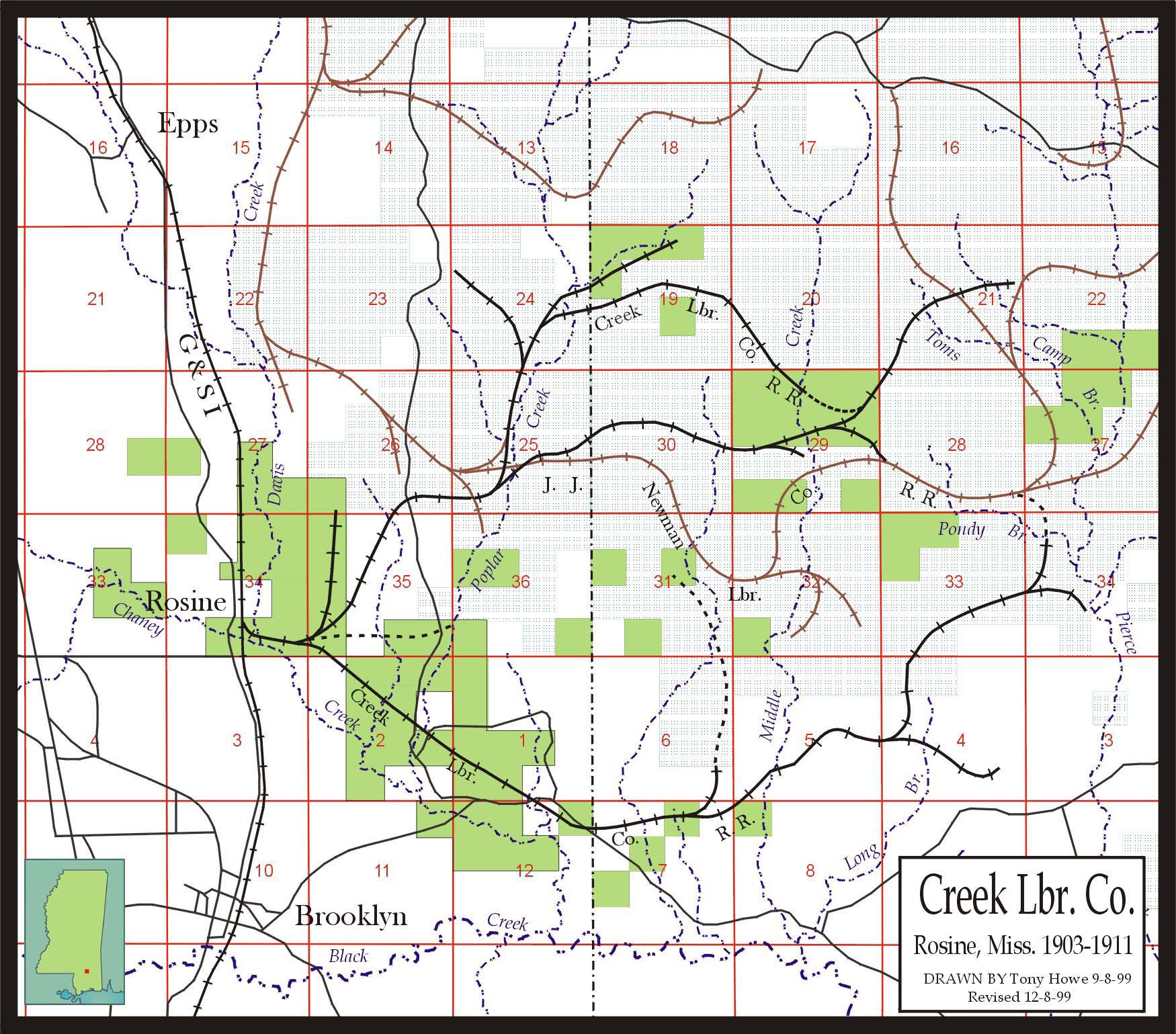 Click Map for Larger Version
History by Gil Hoffman:
The Creek Lumber Company was incorporated at Epps, Perry County on April 7, 1903 by J. F. Wilder, E. W. Linam,
R. N. Steadman and Hardie Nall with authorized capital stock of $25,000. The original officers of the company were: J. F. Wilder, president; R. N. Steadman, vice president, and E. W. Linam, secretary. On October 8, 1903 a sawmill and 52-acre mill site were purchased at Rosine, Perry County, along the G. & S. I. Railroad, from the Three Creek Lumber Company (composed of R. N. Steadman and E. W. Linam).
The sawmill contained machinery by the Wheland Company and had a cutting capacity of 40,000 feet per day. Two dry kilns were also part of the plant, but there was no planing mill.
Initially the timber holdings were in the immediate vicinity of the mill, along the G. & S. I. Beginning in 1904 the company began buying timber in the western edge of present Perry County and extending its logging railroad eastward. In 1906 the company acquired an additional 760 acres of timber in western Perry County, bounded on the east by Pierce Creek, some six miles from the mill. Known timber holdings accumulated in the years 1903 through 1906, when the last was bought, totaled a mere 1,640 acres. The railroad was called the "Rosine & Veedmon Railroad," but was never incorporated or operated as a common carrier.
On December 30, 1910 the entire operation was sold to Thomas Carruth for $25,000 at which time the timber was probably cut out. Carruth had become the secretary and treasurer of the company, as well as general manager, about 1906. On July 15, 1911 Carruth mortgaged the property to the First National Bank of Commerce, of Hattiesburg, and later defaulted on the mortgage, losing the property in August 1912. In 1911 he transferred the railroad equipment at Rosine to his other mill at Coral, in Lamar County.