Standard Gauge
Headquarters: Zama, MS (Attalla County)
Years of Operation: 1916-1931
Mill Capacity: 100,000 ft/day
Miles Operated:
Locomotives Owned:
Equipment:
1 American loader, 2 Clyde Skidders, 1 Clyde Rapid loader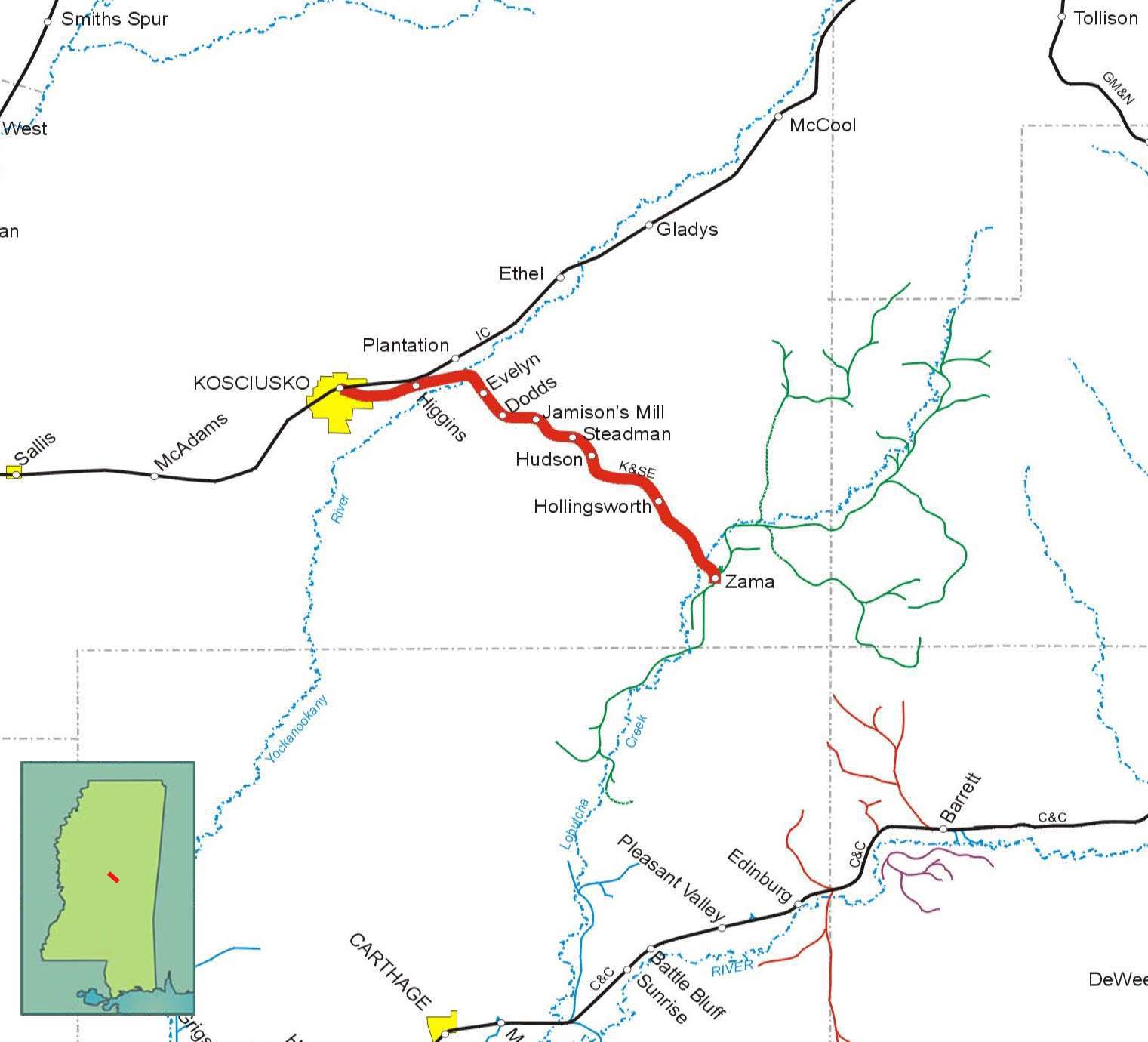 Click Map for Larger Version
History by Tony Howe:
In 1916 the Bolinger-Franklin Lumber Co. of Louisiana bought a large tract of timber southeast of Kosciusko and built a mill at Zama, Mississippi. The company built the Kosciusko & Southeastern Railroad from Kosciusko to Zama that same year. The lumber company also owned several miles of logging railroads radiating out from Zama. On June 2, 1924, the mill, timber, and K&SE was sold to W. P. Brown & Sons Lumber Co. The mill at Zama cut out in 1931, and the K&SE was abandoned that year.
K&SE ROSTER by Gil Hoffman:
Road No.

Type

Builder

C.N.

Date

Cyls.

Dri. Dia.

Engine

Wt.

Previous Ownership

Disposition

1st 8

2-6-0

Lima

1071

8/1908

14x20

42

77500

Natchez, Ball & Shreveport #4, Pollock, LA

Sabine Lumber Co. #106, Zwolle, LA.

Woodworth & Louisiana Central Ry. #109, Woodworth, LA

Kosciusko & South Eastern #8

Southern Iron & Equipment Co. #1849,

on 7/31/1923, in trade on SI&E #1863.

Camp Manufacturing Co., Wallace, NC,

on 8/23/1923.

12

2-6-0

Brooks

1251

7/1887

18x24

56

Cleveland, Columbus, Cincinnati & Indianapolis #646

Cleveland, Cincinnati, Chicago & St. Louis #382, in 6/1889

New York Central Lines (CCC&StL) #6357,

in 1905.

Southern Iron & Equipment Co. #1152.

Kosciusko & South Eastern #12, on 7/9/1917.

Southern Iron & Equipment Co. #1850,

on 7/31/1923, in trade on SI&E #1817.

McClure Pine Co. #23, Wagar, AL,

on 2/11/1924.

6

4-6-0

Baldwin

32773

5/1908

18x24

52

110000

Ordered as: Virginia-Carolina Ry. #3. Cancelled and resold to:

Arkansas, Oklahoma & Western R.R. #441, Rogers, AR, on 4/23/1908.

Kansas City & Memphis Ry. #441, Rogers, AR,

in 5/1911

Kosciusko & South Eastern #6, by 6/1920.

On hand when road abandoned in 1932.

2nd 8

2-8-0

Brooks

2415

3/1894

18x26

48

129000

Buffalo, Rochester & Pittsburgh Ry. #130

Southern Iron & Equipment Co. #1817,

in 4/1923.

Kosciusko & South Eastern #8, on 7/31/1923.

Southern Iron & Equipment Co. #2082.

General Refractories Co. #1, Morehead, KY