Standard Gauge, 52 lb. rail
Headquarters: Vinegar Bend, AL
Years of Operation: 1922-1950
Predecessor road: Alabama & Mississippi
Successor road: none
Miles Operated: 16.945
Locomotives Owned: 3
Equipment
2 locomotives, 4 freight cars, 1 motor bus, 2 work cars in 1928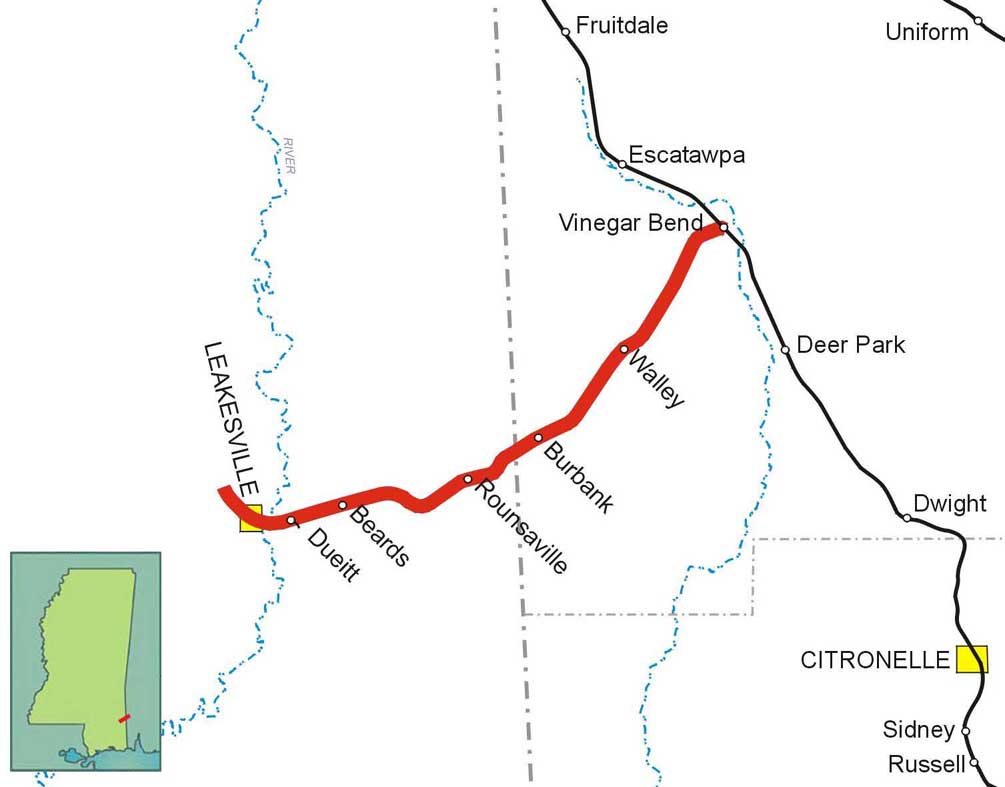 Click Map for Larger Version
History by Gil Hoffman:
The Mississippi & Alabama Railroad was incorporated in Mississippi on August 12, 1922, to acquire and operate 16.945 miles of railroad extending from Leakesville, Mississippi to Vinegar Bend, Alabama, formerly part of the Alabama & Mississippi Railroad, which was purchased at bankruptcy sale by the Leakesville Investment Company. The line was operated under lease for an annual rental of $5,000. It connected with the Mobile & Ohio at Vinegar Bend, Alabama.
Authorized capital stock was $6,000 which was issued to allow purchase of the following equipment: one 50-ton locomotive, $2,500; one 56-ton locomotive, $3,500, and three flat cars at $200 each.
The original railroad was constructed as a logging road by the Vinegar Bend Lumber Company about the turn of the century, and was operated as a common carrier for about 20 years until abandonment was authorized by the I. C. C. on October 21, 1921.
The country traversed was rolling, except for the last few miles on the west end hear the Chickasawhay River, where it was low and flat. The region was originally heavily timbered, but by the late 1920's the timber had been mostly cut off. The principal industry was logging and the manufacture of lumber. The road served a large sawmill at Leakesville and a veneer plant at Dueitt. The only metal bridge on the road was over the Chickasawhay River, 153 feet in length, and consisting of one through, pin-connected, truss span and two pile piers.
As a result of unprofitable operation, abandonment of the entire line was authorized by the I. C. C. in February 1950 and operations were discontinued on March 31, 1950.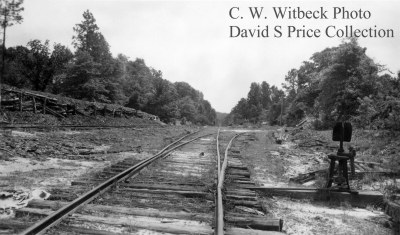 M&A tracks at Rounsaville, MS.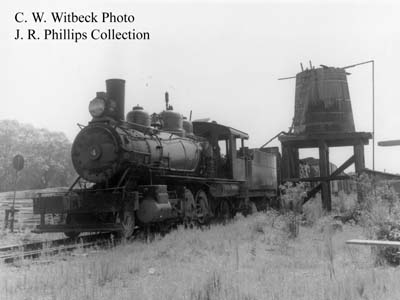 M&A 4 takes water.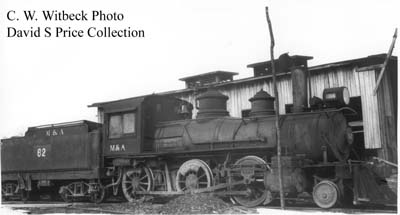 M&A 62 was an old Mobile & Ohio 2-6-0. It is seen here at Leakesville on May 2, 1938.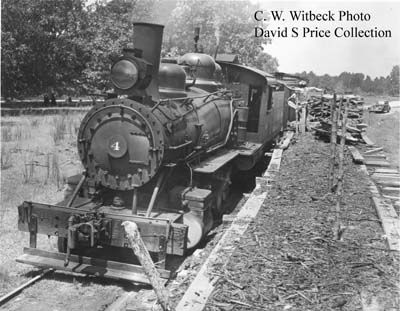 M&A 4 "wooding up" at Leakesville. M&A was considered the country's last woodburning common carrier.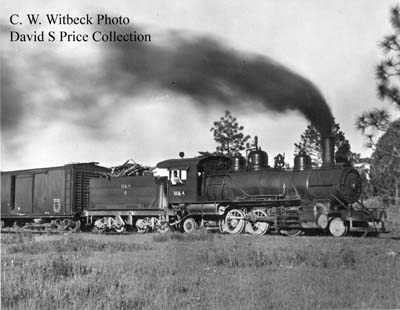 M&A 4 making its way through second-growth pine forest.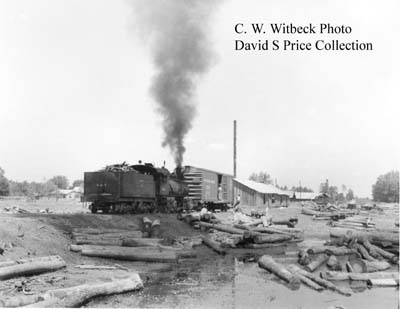 Number 4 switches at the veneer mill at Dueitt.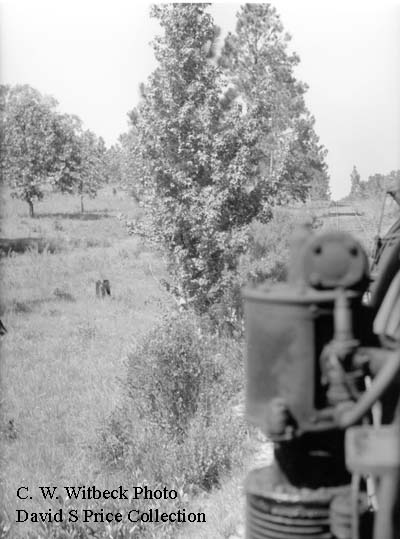 Photographer Bill Witbeck enjoyed a cab ride on the M&A on at least one occasion.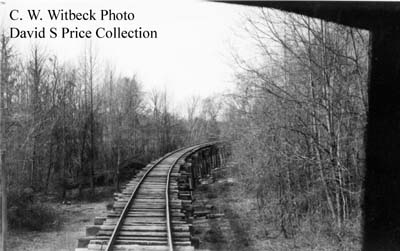 The wood trestle approach to the east side of the Chickasawhay River bridge.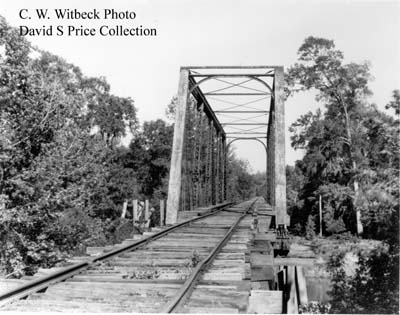 M&A's bridge over the Chickasawhay River at Leakesville.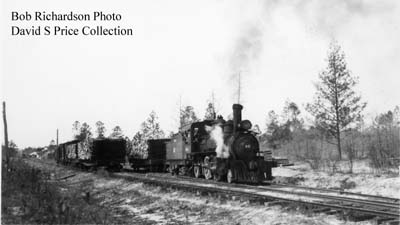 M&A 62 switching loads of pulpwood east of the veneer mill.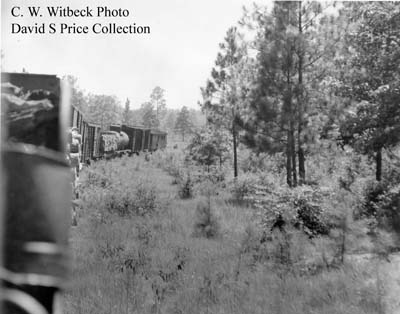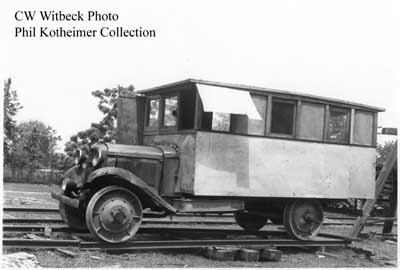 M&A's railcar provided passenger service between Vinegar Bend and Leakesville. It is shown here on the short turntable at Leakesville used to turn the rail car.