36" Gauge, lb. rail
Headquarters: Glendale, MS (Coahoma County)
Years of Operation: 1870-1889
Predecessor road: none
Successor road: LNO&T
Miles Operated: 31
Locomotives Owned: 4
Equipment
2 locomotives and 16 cars in 1887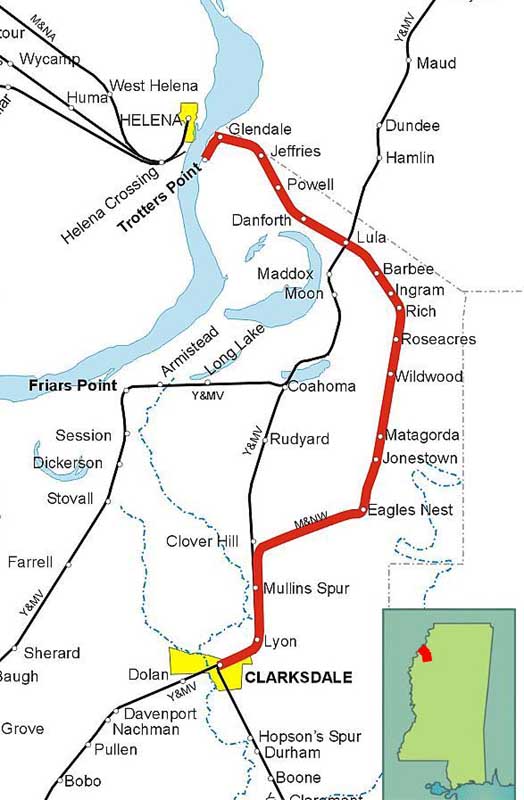 Click Map for Larger Version
History by Gil Hoffman:
The Mobile & North Western Railroad was chartered July 20, 1870. The line was projected from Glendale, Mississippi, to Jackson, Mississippi, 169 miles. In 1877 the road was opened for 8 miles and finally, in 1879, from Glendale to Clarksdale, Mississippi, 31 miles.
Officers of the railroad were: Thomas T. A. Lyon, of Glendale, president; George Vidner, of Mobile, Alabama, treasurer, and John S. McKay, of Glendale, superintendent.
Default was made on bond interest, foreclosure proceedings were begun and a receiver appointed in December 1886. The receiver, Ben Wilson, of Memphis, TN, under direction of the court, began surveys early in 1887 for an extension of the line to Yazoo City. In 1887 the railroad owned 2 locomotives and 16 cars.
In October 1889, the assets were sold to the Louisville, New Orleans, & Texas Railroad.