Standard Gauge 45 and 56-lb rail
Headquarters: Avera, MS (Greene County)
Mill Capacity: 60,000 ft/day
Years of Operation: 1918-1933
Miles Operated: 21
Locomotives Owned: 3
Equipment:
#137- 0-6-0
#2- 42-ton Shay
#3- 45-ton Baldwin 2-6-0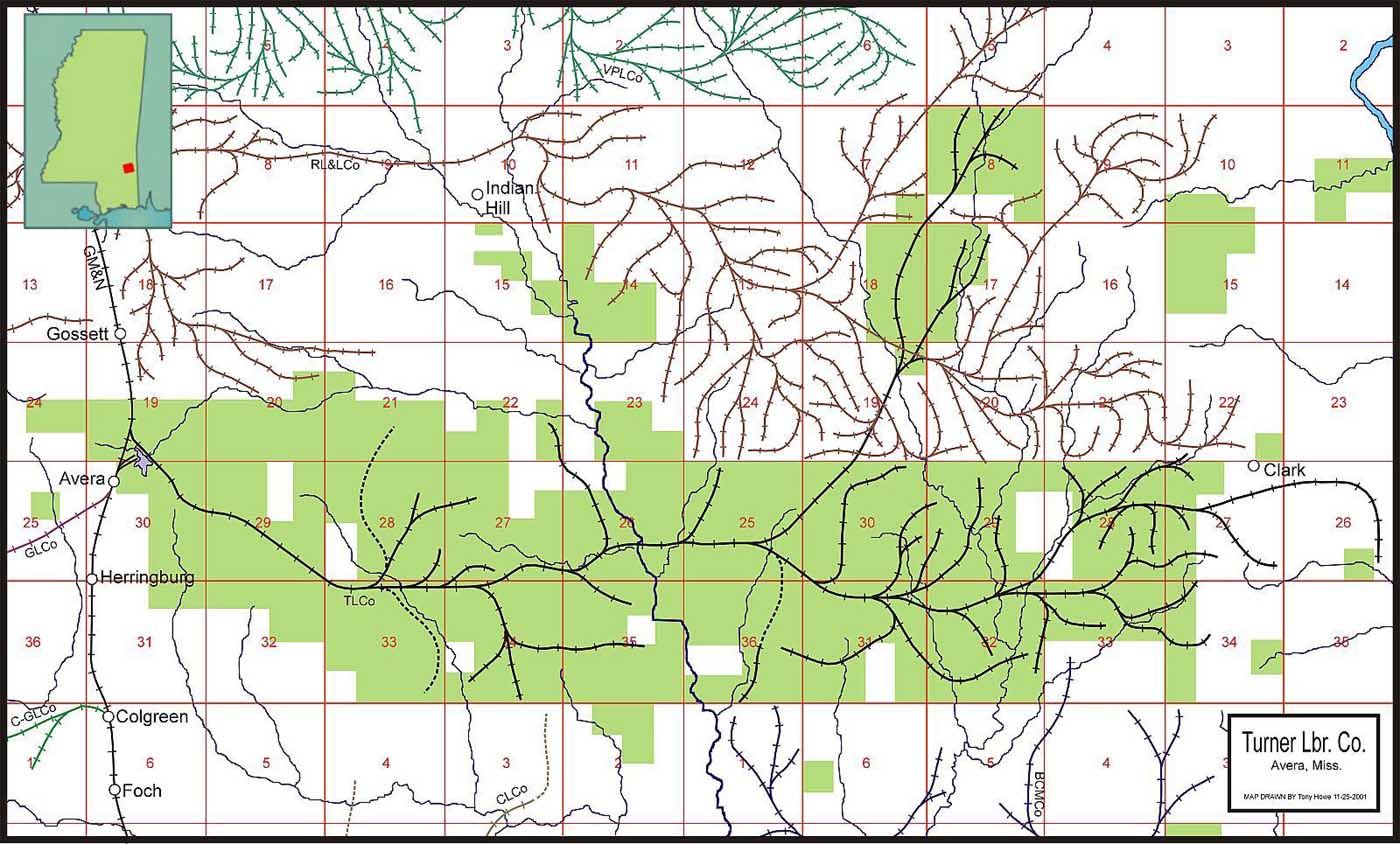 Click Map for Larger Version
History by Gil Hoffman and Tony Howe:

The Turner Lumber Company was incorporated at Mobile, Alabama, in January 1918 with $200,000 in capital stock. The officers were Horace S. Turner, president; J. Tyler Turner, vice president, and O. M. Ottis, secretary and treasurer. In January 1918 the company bought 9,000 acres of Blodgett timber in Green County, and built a circular sawmill on the Gulf, Mobile & Northern Blodgett branch at Avera. This mill had a cutting capacity of 60,000 feet per day. By 1927 the company was known as the "Turner Timber Company." The Avera mill cut out in 1933.

The Avera & Northeastern Railroad was chartered in Mississippi on June 18, 1929 by Horace S. Turner, J. Tyler Turner, Noel M. Turner, O. M. Ottis, William Vizard, all of Mobile, Alabama, and A. Vizard, of New Orleans. The terminal points of the proposed line were Avera and State Line, all in Greene County. Part of the railroad had already been completed in a southeasterly direction by the Turner Lumber Company, of Avera.

It appears that the railroad was never completed into State Line, and the railroad was abandoned when the mill shut down in 1933.