Standard Gauge, 35-lb rail
Headquarters: Epps, MS (Forrest County)
Mill Capacity: 35,000 ft/day
Years of Operation: 1898-1910
Miles Operated: 12
Locomotives Owned: 3
Equipment:
#135 16-ton Baldwin 0-4-2T
#998 26-ton 4-4-0
#99 36-ton Brooks 2-6-0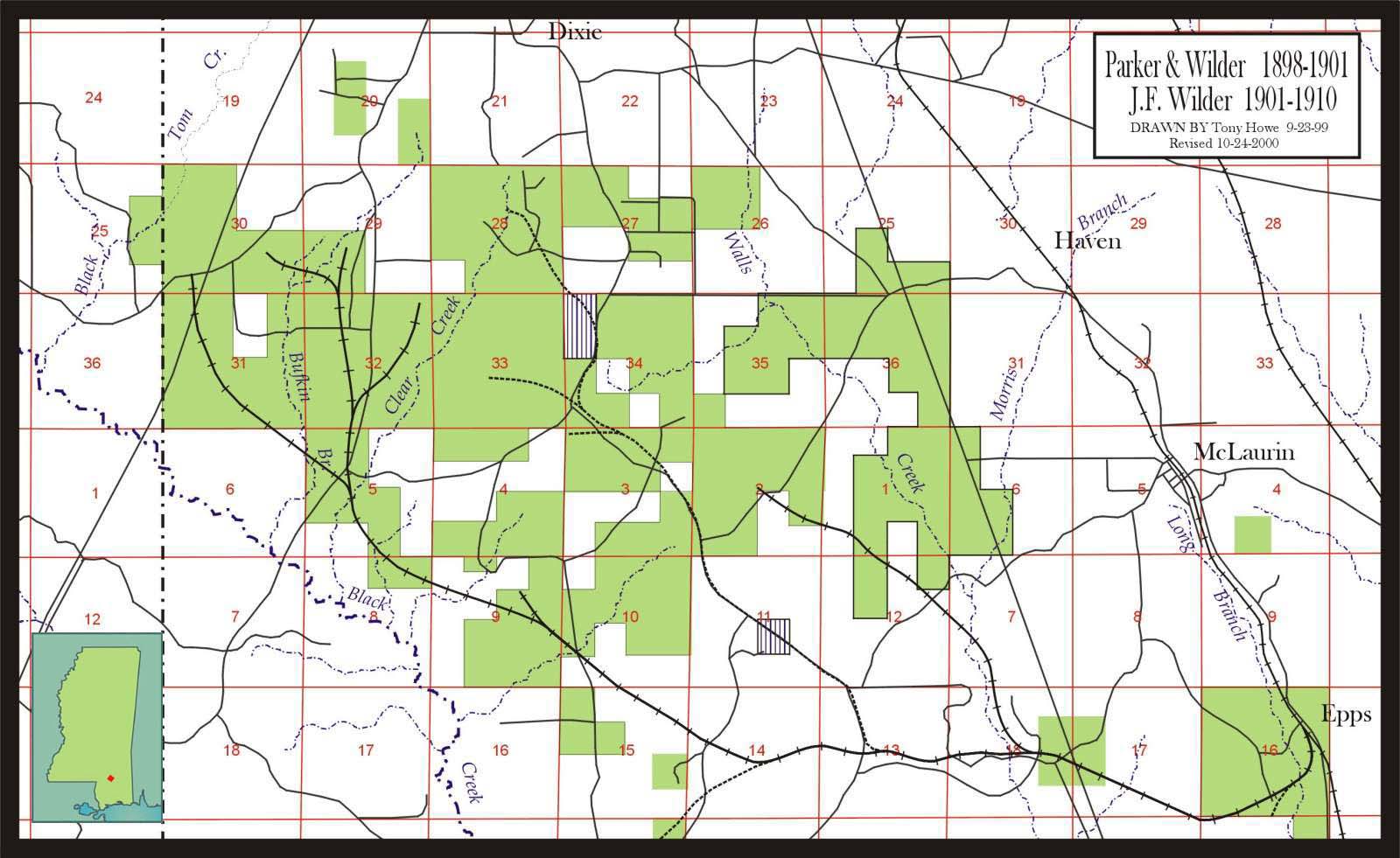 Click Map for Larger Version
History by Gil Hoffman:
About November 1897 Mulford Parker and John F. Wilder, operating as "Parker & Wilder," a copartnership, built a sawmill two miles south of McLaurin, Perry County, on the west side of the Gulf & Ship Island Railroad. Wilder's legal partner was Nancy Melvina Parker, wife of Mulford Parker, who seems to have always acted for him in land deed matters. The formal lease on the mill site, which was on land belonging to J. P. Carter, did not take place until May 12, 1898. This location was called Epps by John Wilder and was supposedly a family name. The Epps mill initially had a cutting capacity of 35,000 feet per day of longleaf yellow pine and was always managed by J. F. Wilder.
On October 5, 1899 Parker & Wilder purchased the mill and timber of the Walls Creek Lumber Company, at Homestead, near McLaurin. This mill had a cutting capacity of 15,000 feet per day and was logged over a mule or oxen powered tram road. It was dismantled in 1901 and the machinery used to increase the capacity of the Epps mill.
On August 12, 1901 J. F. Wilder bought the interest of N. M. Parker in the business for $12,500 and continued the operation under his name. The purchase included two locomotives, 4 log cars and 10 miles of logging railroad. Wilder's mill produced rough and kiln dried longleaf yellow pine lumber, specializing in long lengths and agricultural stock.
During the years 1898 through 1901 Parker & Wilder purchased a total of about 3,760 acres of timber in Perry (Forrest) County, in an area extending westward from McLaurin for about six miles to Clear Creek. During the years 1901 through 1906 Wilder added an additional 1,760 acres to the total in this same general area. The last timber purchased was on May 1, 1907 consisting of 1,960 acres of land acquired from W. S. F. Tatum for $104,210. This land was in Lamar County several miles north of Purvis and some 15 miles northwest of the sawmill.
On March 26, 1908 the sawmill was completely destroyed by fire, but was rebuilt and placed in operation in August 1908. In 1910 the mill cut out, after which Wilder moved his operation to Perkinston, Harrison County, further south on the Gulf & Ship Island Railroad.
Additional information:
"Steam Whistles in the Piney Woods, Volume 2", Gilbert H. Hoffman, Longleaf Press, Hattiesburg, MS, 2004