Standard gauge, 35 & 60-lb rail
Headquarters: Hot Springs, NC
Mill Location: Arbo, MS (Covington County)
Mill Capacity: 40,000 ft/day
Years of Operation: 1905-1916
Miles Operated: 17 miles in 1916
Locomotives Owned: 3 known
Equipment:
1 Russel 3-drum skidder, 1 McGiffert log loader, 23 log cars, 1 caboose
See also: Mt.Olive Lumber Co.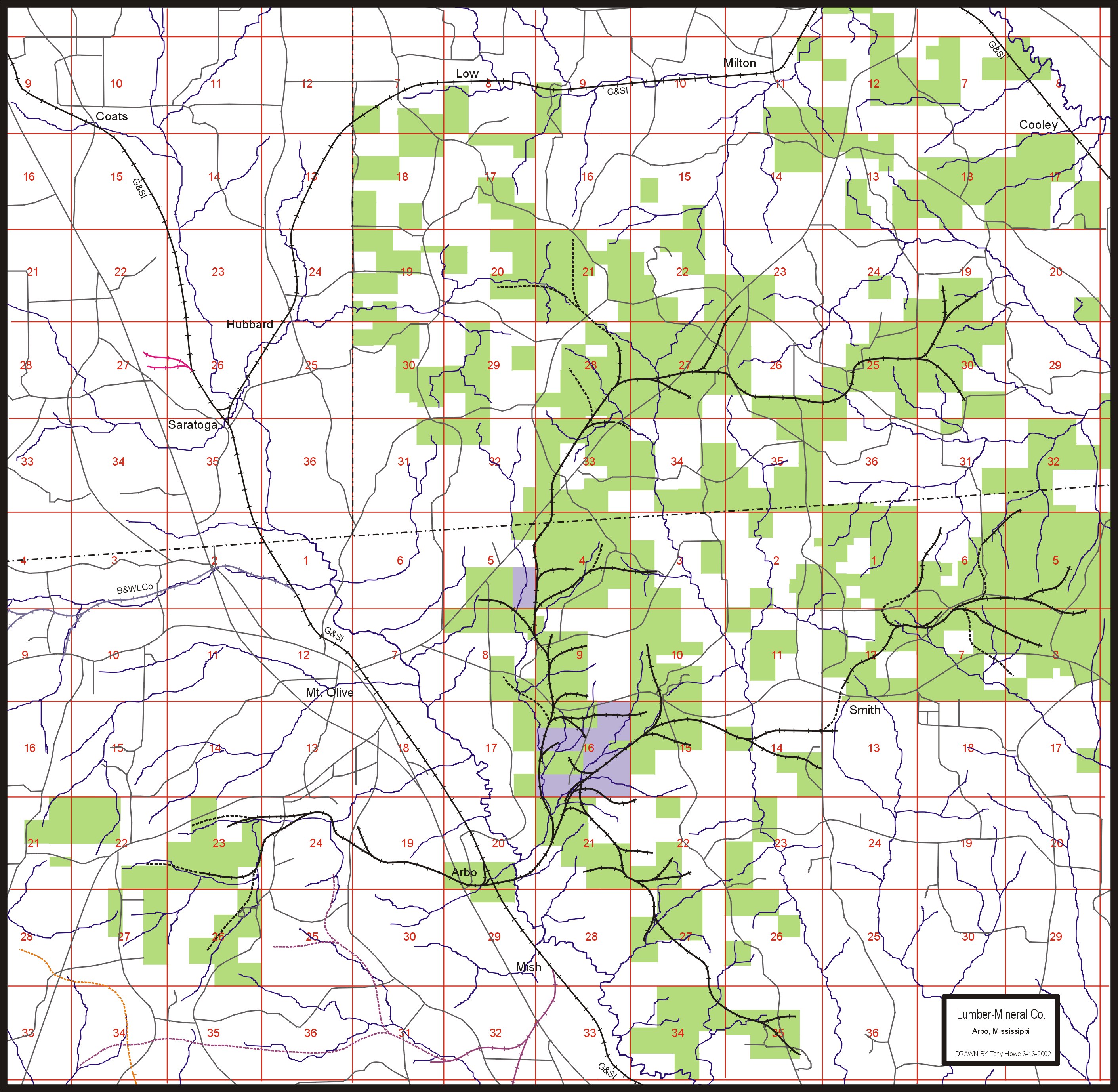 Click Map for Larger Version
History by Gil Hoffman:
The Lumber-Mineral Company was incorporated in Maine in June 1905 with $60,000 in capital stock, and main office at Hot Springs, North Carolina. The president and manager of the company was H. H. Cust. On May 10, 1905 the company purchased from W. S. F. Tatum, of Hattiesburg, the sawmill plant, known as the Leeke mill, logging railroad and 14,280 acres of timber in Covington and Smith counties, all formerly belonging to the bankrupt Mount Olive Lumber Company. The price was $314,487. The Leeke mill was located at Arbo, Covington County, on the Gulf & Ship Island Railroad, about two miles southeast of Mount Olive, and had a cutting capacity of 40,000 feet per day.
The Company increased its production capacity by contracting for the outputs of smaller mills, one at Hubbard, Miss, and one at Mize, MS The mill at Mize belonged to H. W. Rogers and was built in January 1907 with the financial backing of the Lumber-Mineral Company. The company did a general yard trade in longleaf yellow pine lumber with sidelines in heavy timbers and export materials.
In the spring of 1907 the old Leeke mill at Arbo was replaced by a band and circular mill containing Allis-Chalmers equipment. Although the building had room for a double mill, only the circular side was installed. The capacity was from 60,000 to 100,000 feet daily depending on the type of logs cut. In the summer of 1915 a Filer & Stowell 8-foot band saw was finally installed.
On May 11, 1916 the sawmill, dry kilns, ramps and docks at Arbo were destroyed by fire with a loss of about $80,000. Initially plans were to rebuild the mill, but these never materialized because of the long delay in settling the insurance claim. Thus, the fire resulted in operations being permanently suspended. In June 1917 the timber holdings, commissary and turpentine interests were sold to the Kola Lumber Company, of Kola, MS
In early 1918 H. H. Cust, former manager of the company, moved to Mt. Vernon, Illinois where he took a job with the Mt. Vernon Car Manufacturing Company.
ROSTER by Gil Hoffman:

3 2-6-0 Richmond 1710 -1887 36½ 10x16 44000
Purchased from W. S. F. Tatum, Mt. Olive, MS, on 5-10-05.
Built as G. W. Wright & Co. # ; to Birmingham Rail & Locomotive Co., Birmingham, AL; to Lott & Perkins, Inda, MS, on 11-20-99; to Mt. Olive Lumber Co., Mt. Olive, MS, on 5-10-04; to W. S. F. Tatum, Mt. Olive, MS, on 2-18-05.
Set aside in late 1912 (see Note 1).
Sold to Southern Iron & Equipment Co. #1533, Atlanta, GA; to E. L. Hendrick Lumber Co. #3, Jackson, MS, on 6-9-20; to Southern Iron & Equipment Co. #1935; to G. W. Fennell, Williams, SC, on 4-29-24; to Southern Iron & Equipment Co. #2174.
15 2-6-0 Rogers 2727 4-1881 52 17x24 85000
Purchased from Georgia Locomotive Co. #15, Atlanta, GA, on 6-10-07. Cost $4,200.
Delivered at Jackson, MS.
Built as Alabama Great Southern #24; to Vicksburg, Shreveport & Pacific #314, renumb. #329; to Georgia Locomotive Co. #15.
For sale 7-1917.
Sold to Southern Iron & Equipment Co. #1340, Atlanta, GA; to W. P. Brown & Sons Lumber Co. #15, Fayette, AL, on 8-20-18; to Southern Iron & Equipment Co. #1561, Atlanta, GA; to Sabine Valley Hardwood Lumber Co., Bon Weir, TX, on 3-15-20.
? 2T Heisler Heisler (1222) -1911 36 14x12 72000
Purchased from A. G. Little Lumber Co. #1, Richardson, MS, in late 1912 (tentative).
For sale 7-1917.
Note 1 No. 3 was set aside in late 1912 as too light and replaced by a 40-ton Heisler. The engine was offered for sale in the Southern Lumberman, November 2, 1912, p. 55, but not sold until after mill burned in 1916.
Note 2 The Lumber Mineral Company advertised in the Southern Lumberman, June 22, 1912, p. 55 wanting to buy "a good second-hand geared locomotive, either Heisler or Shay, weighing 40 to 45 tons." The American Lumberman, December 28, 1912, p. 54 mentions that "the Lumber Mineral Co., of Arbo, MS, recently added to its logging equipment a 40-ton Heisler engine." This engine has been tentatively identified as c/n 1222.