Standard gauge
Headquarters: Shubuta, MS (Clarke County)
Mill Capacity: 65,000 ft/day
Years of Operation (S&SW): 1905-1922
Miles Operated: 12.5
Locomotives Owned: 4
Equipment
2 locomotives, 28 log cars, 1 boxcar in January 1909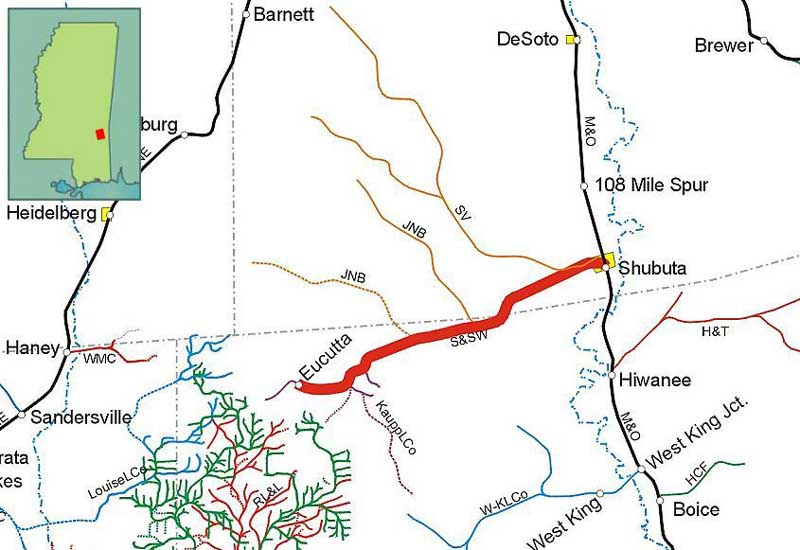 Click Map for Larger Version
History by Gil Hoffman:
Kaupp Lumber Company
In the spring of 1905 F. H. Kaupp, of Talladega, Ala., purchased a large body of timber around Eucutta, MS The Kaupp Lumber Company was incorporated at Shubuta, Clarke County, on December 2, 1905 by F. H. Kaupp, of Clarke County, H. A. Bond, of Clarke County, and Alfred Truman, of Brookville, PA, with authorized capital stock of $100,000, which was raised to $250,000 on Dec. 14, 1906. Construction of a sawmill at Shubuta began in 1905. The Kaupp Lumber Company went into receivership on May 4, 1908 and its assets were sold to the Hiwannee Lumber Company, of Hiwannee, Wayne County, on April 19, 1909.
Shubuta & Southwestern Railroad
The Shubuta & Southwestern Railroad was chartered in Mississippi on May 20, 1905 by F. H. Kaupp, J. H. Griffin and D. W. Heidelberg with capital stock of $25,000. The road ran from a connection with the Mobile & Ohio Railroad at Shubuta westward to Eucutta, Wayne County, 12½ miles. It was used primarily to haul logs to the mill of the Kaupp Lumber Company at Shubuta, although some freight was also carried. In 1907 the president and general manager of the line was S. G. Blalock.
Brownlee Lumber Company
On July 8, 1911 the Brownlee Lumber Company bought the sawmill plant at Shubuta and timber holdings in Clarke and Wayne counties of the Hiwannee Lumber Company for $24,062.50. The Shubuta & Southwestern Railroad was part of this purchase. Brownlee had been operating a mill at Shubuta since 1905, supplied with logs by a 36" gauge railroad. The former Kaupp mill and S&SW were operated in conjunction with the old Brownlee mill and railroad.
In October 1920 the Shubuta operation cut out and the mill closed. The Shubuta & Southwestern Railroad was finally abandoned in 1922.
Also see page on Brownlee Lumber Co. and page on Hiwannee Lumber Co.